"Discover new places in Oregon that will open your eyes to Pacific Northwest adventures to embark on.  Lush greenery surrounding everywhere.  It is a heaven for nature lovers."
For a long time I was proud to call myself an Oregonian.  Now I find myself being a part of a group of summer time folks that call Hood home for the summer months.  In Summer's past, at times I was a gypsy, an avid camper and a proud occupant of my lovely apartment in Welches.  Sometimes I would be a classic college kid and find myself driving 35 minutes down the road until I reached my parent's second home for a lengthy stay with my family.  
As a long time Oregonian, I am knowledgeable about all of the wonders, mysteries and enticements that Oregon has bestowed upon me.  I am a lucky chick to have spent a fair amount of my life here.
Now let's get to the goods.  Ah yes, the list.  The list a true Oregonian or Pacific Northwest connoisseur would know.  Well let's take a glance at some fun Explore Oregon road trip spots.
Mt Hood Area
The Volcano:
Mt Hood
The heaven of all heavens and the only one volcano.  At least in Oregon that is!  It is home to me and where I have spent most of my time for the past years.  Let me rephrase that, all of my time during the first two years of snowboarding and every summer spent here.  It is a place of mystery and awe.  I learn something new everyday about Mt Hood and know it like the back of my hand.  Even if you do not come here for spring or summer snowboarding, it is fun to go see Mt Hood at Timberline.  In the summer there are wildflowers everywhere with unparalleled view of the mountain.  Lupins take over during June, July and August.  One of my favorite things to do during summer is to watch sunsets at Mt Hood and see the zaug cutting the pipe for me to ride the next day.  I have spent the past two summers sitting on a rock sometimes having a beer gazing upon my home mountain.  Of course, Kona comes along too at times.  Mt Hood has to be on your bucket list if you are not from around here.  It is something you have to see in the US.
Welcome to the land of abundant lakes, waterfalls and trees.
Lakes:  
Trillium Lake
Welcome to the lake of all lakes in Oregon with heaven like views of the volcano called Mount Hood.  With spring and summer snowboarding, there is a snow capped volcano that can be shredded on at any time of the year.  There are so many leisurely activities at Trillium Lake such as paddle boarding, canoeing, fishing, building a campfire with friends and even skating down at the airport strip.  It is an essential mix of families and snowboard gypsies.  I can't help but spend most of my time tanning at Trillium Lake enjoying the company of good friends and have the occasional beer after snowboarding.  I take my dog Kona to Trillium with me and he loves having a trip there.  It is a healing place to go with fellow Bohemians everywhere.
Mirror Lake
I think it is fair to say that Mirror Lake is one of the most popular day hikes in the Mt Hood area and is an easy hike.  It provides irresistible views of Mt Hood and is a hike that I take Kona on every once in a while.  Although we tend to spend most of our time at Trillium, Mirror Lake is a different experience to go embark on.  As a person who has lived in Hood for many years, I command you go on this mission.
Little Crater Lake
Crater Lake offers gorgeous turquoise and green colors at times.  It is not a good place to swim at but is worth the hike to see an awesome views.  Go see this destination and add it to your list of travels.  It is not common for people to visit this lake as much and will provide you with a unique experience that you maybe desiring in your road trip to Oregon.
Clear Lake
A stop to go fishing at with good views of eagles and their nests.  Many people like to paddle board at Clear lake as well.  I have been here a few times and thought it provided quietness that makes it a cherished place to study at.  Can't help but feel like I could get a lot of work done at this lake with how quiet it is, even in the summer time.
Frog Lake
I like to go fishing here at times and find it peaceful lake that is not popular to go to.  Sometimes I will see people I know rowing their canoe at Frog Lake reading a boat as they float around.  Compared to the other lakes, Frog Lake is rather small but still a good place to stop by if you prefer quiet time with a fishing rod.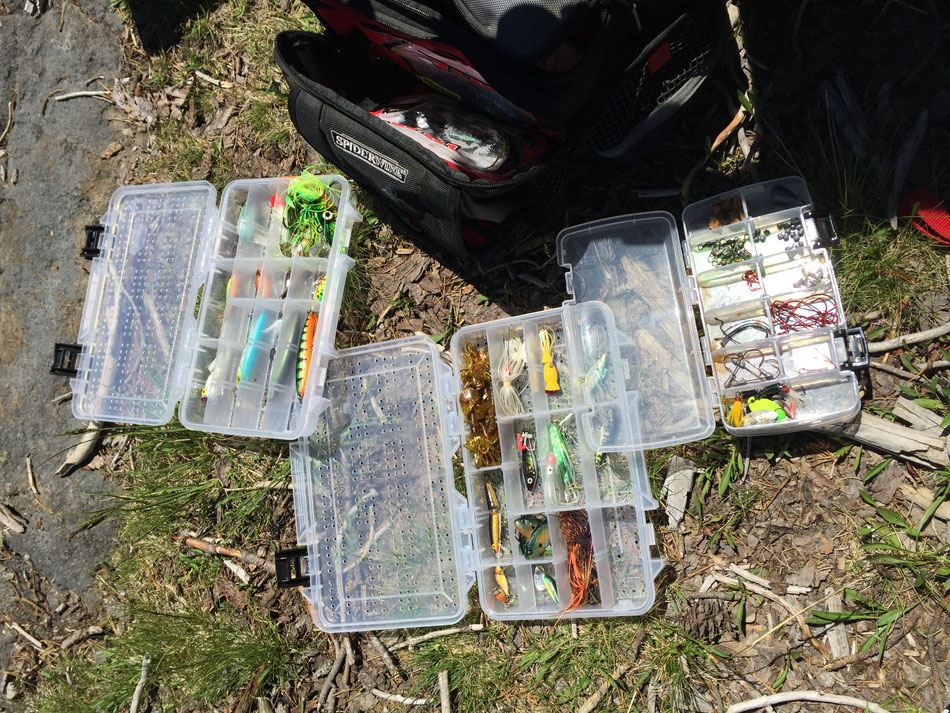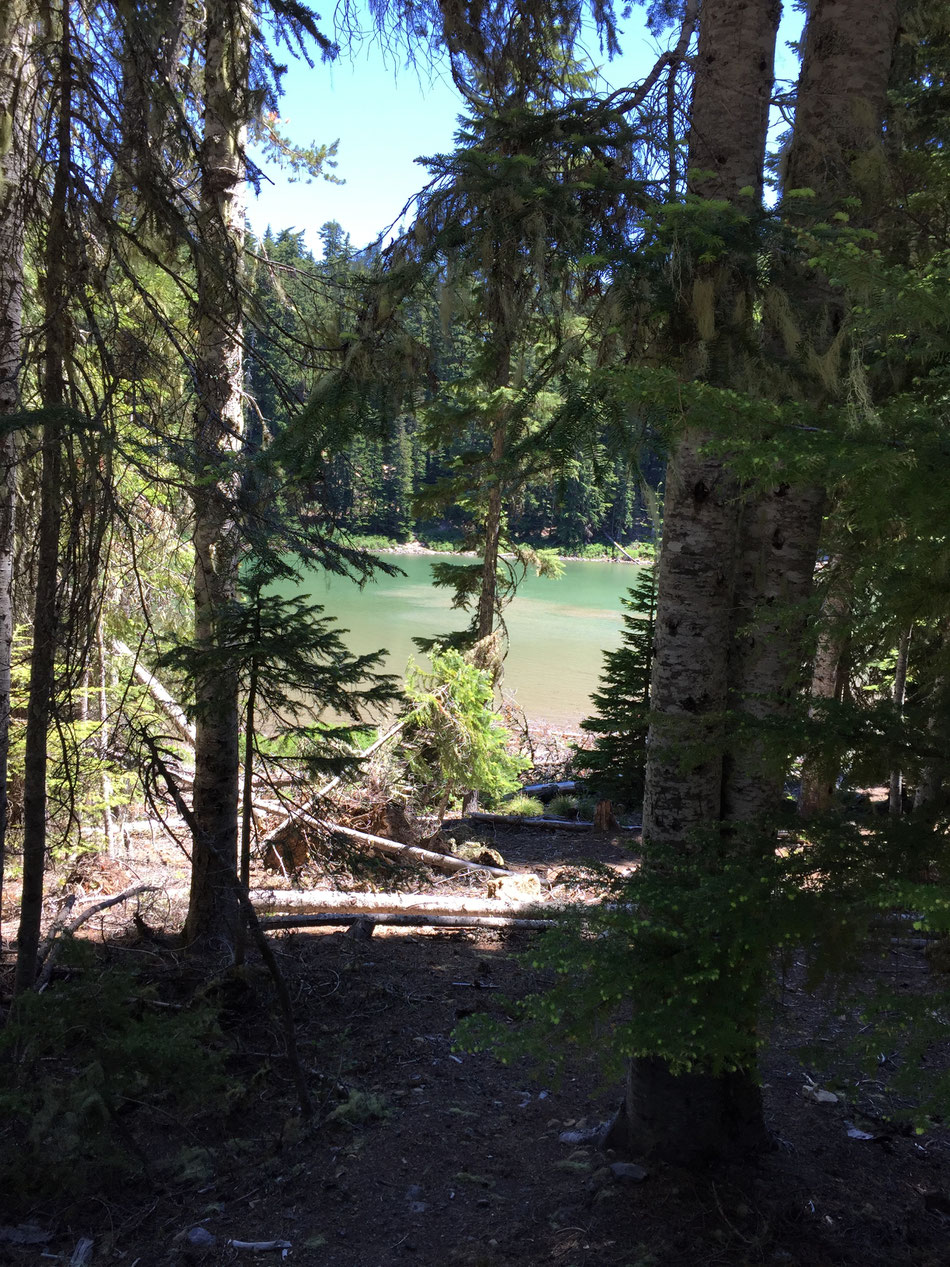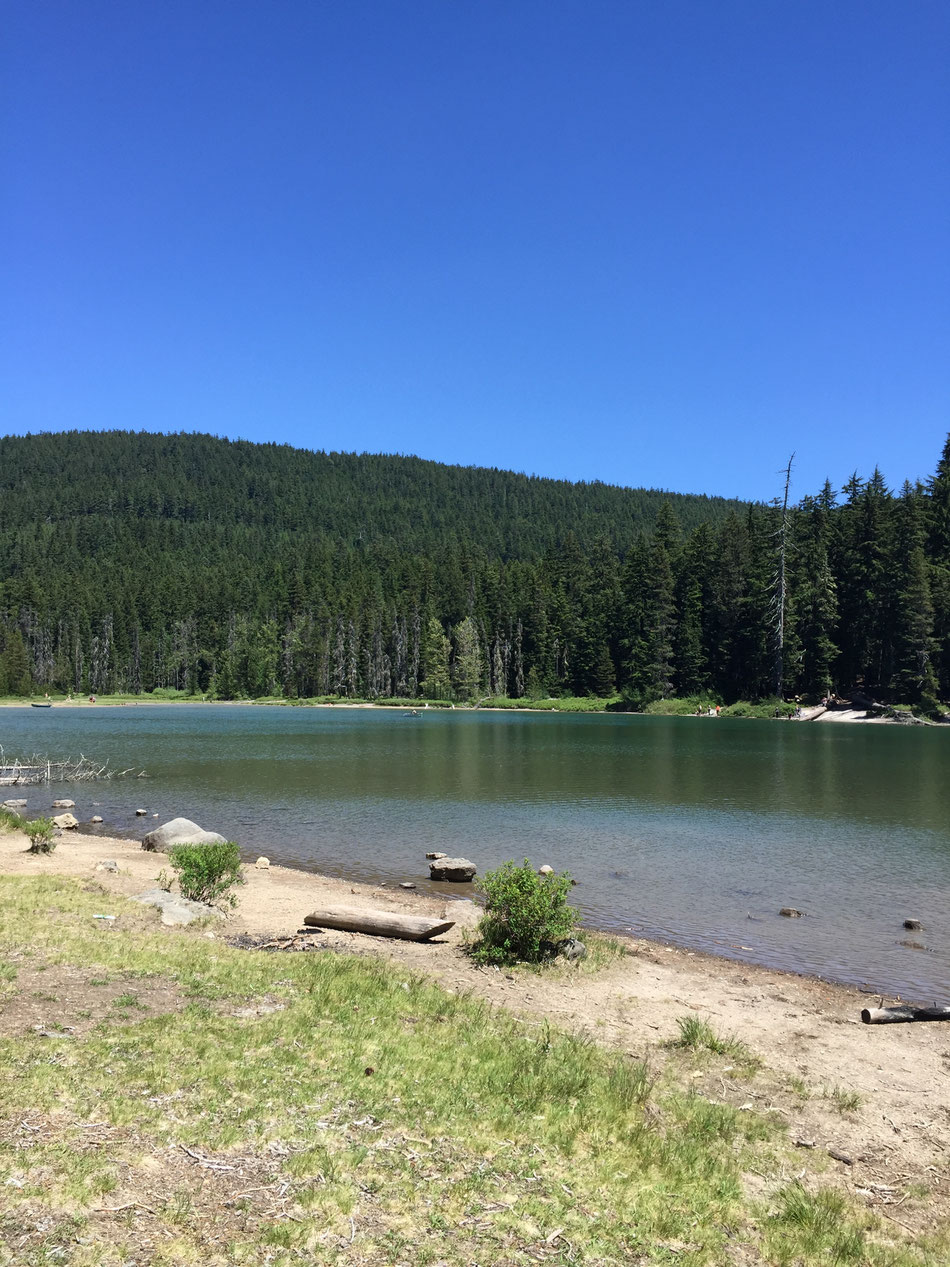 Timothy Lake
Further away than the other lakes, Timothy Lake is secluded and offers a calming experience in nature.  Timothy Lake on weekends can be crowded and a popular camping site.  It is nice to mix it up every few years with a trip to Timothy Lake.  I believe that Timothy is a fantastic place to take your family to and spend time at.  
Rivers:
Brightwood Beach
Constant relaxation is the most accurate description of Brightwood Beach.  Right by the river it is a pleasant destination for travelers seeking a new hangout spot.  A wonderful place to go fly fishing and taking leaps off the easily accessible cliffside into the river.  The fly fishing in the Mount Hood Area is some of the best one can experience in the world.  It is perfect for planning a picnic with your loved one.  Bringing a bottle of wine or a few beers along to kick back and relax is a great way to spend the afternoon at this Mt Hood beach.  A picturesque location by the river, Brightwood is a refreshing Pacific Northwest adventure.  Only located twenty minutes away from legendary Mt Hood, Brightwood Beach is a five minute walk from the parking spots to the river.  As a former local, I can call this sanctuary one of my favorite spots to bask in the sun and enjoy myself during summer time.
Salmon River Trail
Almost resembles a fairytale with its gorgeous scenery.  This is a destination that you have to see when coming to Oregon.  A mix of mini waterfalls by the river to at some points huge waterfalls.  Salmon River Trail looks like it is out of a magazine and provides some of the most desired fly fishing spots in the world.  Take your tent to at least spend one night under the stars and morning waking up in the fresh air out in the woods with epic views.  It is a rad place to take a hike with the choice of walking over many wooden bridges that are special to Oregon.  There are many deer sightings that you will experience when traveling to Salmon River Trail.  Only fifteen minutes to the nearest restaurant and grocery store, Salmon Trail is close to the town of Welches but far enough to venture out to find quietness in nature.  Only five minutes away are some great locations to go rock climbing which is a plus with this road trip destination.
Little Hawaii
A timeless little paradise in Welches that is scenic and a destination that you cannot pass up the opportunity of getting to go to.  Chill vibes with a beautiful surrounding.  The question comes to mind, what more could you ask for?  A waterfall that makes you feel like you are out in the jungle with a pretty colored river that has abundant fish.  One cannot help but think how lucky they are to swim in a majestic area that provides many adventures.  Come here in the spring time when the flowers are blooming and you will find many blue flowers everywhere.  The ideal time to arrive would be in May to see these lovely flowers blooming on your walk to Little Hawaii.  Skinny dipping, playing your ukulele and not running into many people is a amusing way to spend your time after a day of spring or summer snowboarding.  Not to mention the short workout that you will get from the rope course to and from Little Hawaii to add to an adventurous trip.    
Waterfalls:
Tamanawas Falls
I always hike to Tamanawas each summer and like how secluded it is in the Mt Hood area.  It is 100 feet tall!  It is worth the trip to go with your friends and journey to this Oregon waterfall.  Add it to the list of nice places to cool off during the summer months.
Little Zig Zag Falls
This is a quick hike and the place to take your family to for a quick trip.  Little Zig Zag Falls is 30 feet tall and very gorgeous.  Take your boyfriend or girlfriend here for a romantic waterfall trip in the spring or summer months.  They will be impressed.  
Ramona Falls
Ramona falls in the most distinct waterfall in the Mount Hood area and is quite a hike to.  I would suggest visiting Ramona Falls and make sure to take your water bottle with you to stay hydrated on your trip.  
Umbrella and Sahalie Falls
The Umbrella Falls are 60 feet tall and Sahalie Falls are 100 feet tall.  This makes for an incredible view and time spent here is worth while.  I definitely like to trek out to these waterfalls every now and then.
Restaurants:
Huckleberry Inn
I recommend having yourself a huckleberry milkshake that will make your day.  The Huckleberry Inn has every type of food imaginable that includes huckleberries ranging from pancakes to donuts.  My favorite stop after a long day of summer snowboarding.  I cannot resist how delightful the food is at Huckleberry Inn.  Every time my parents visit me at Mt Hood, we stop there for food the whole family can agree on.
Charlie's
A local's favorite bar would be Charlie's.  I have spent quite a bit of time over the years at Charlie's and they have a all around menu for food choices.  It is an iconic bar to Mt Hood with all of my friends there.  If I didn't see people I know at Charlie's it would be a weird experience.  This is the bar to go to in Govy and take your friends to.  Their fries will blow your mind.  Charlie's should make it on your must be destinations for your road trip.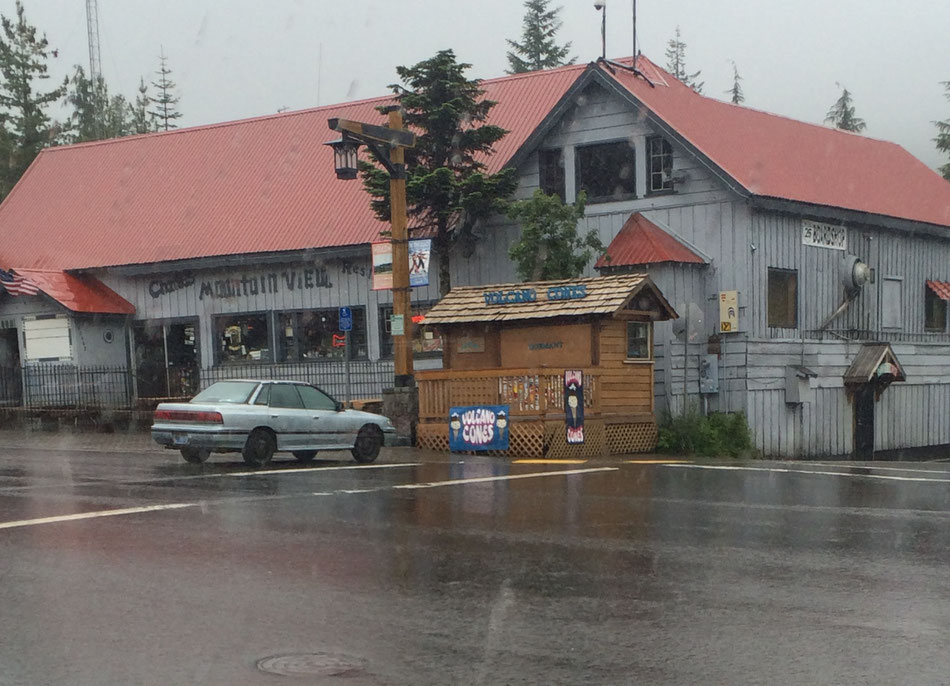 Skyway's
Another favored bar would be Skyway's.  I used to live close to Skyway's and take my nephew or friends their frequently.  Burgers or macaroni is the way to go.  Their burgers get a five star award.  A spot where you will run into all your friends that live in Welches.  Go on a night when they are playing live music and sit outside during a summer night.  It is easy to appreciate their garden and lights hung at night.  The vibes at Skyway's are extraordinary.
The Resort at the Mountain
I used to live in the apartments down the road from The Resort at the Mountain.  One time I played golf there and had so much fun.  It was a day off from snowboarding, playing golf with my friends and their course was great.  The only thing better than their golf course was their Altitude Restaurant and Lodge.  It was nice to have a steak and have a more sophisticated dinner than I am used to at The Resort at the Mountain.  Occasionally, snowboarders get together at fancy restaurants and this was one of the moments where the food was superb.
Ram's Head
Ram's Head has an optimal view of Mt Hood and is a restaurant that my Mom has spent a lot of time in when waiting for me to finish snowboarding for the day.  When going to Ram's Head, I like to order a cup of clam chowder and keep it mellow.  It is cool to look at all of the wood surrounding you when you are having dinner there.  Timberline Lodge is a unique place to eat at with fantastic food.
Cascade Dining Room
A very elegant restaurant to eat at that most of my friends work at during the summer.  It has spectacular food with wonderful service and it is rare when I get the chance to eat there.   I am a big fan of the cookie ice cream dessert at the Cascade Dining Room.  Their buffet menu is exceptional.  I prefer to order Belgian waffles with fresh fruits when attending their buffet.  It is one of the main restaurants to eat at when at Timberline Lodge.  
Blue Ox
One of my favorite places to grab a pizza every now and then at Timberline Lodge.  Blue Ox is a cozy little restaurant that typically doesn't have a lot of people there and isn't crowded.  I used to spend a great deal of time visiting the Blue Ox and find it as a treat when I am able to make a stop for a savory slice of pizza pie.  It is a nice little bar that has its own character in Timberline Lodge.
That's the list of ExplORe Mt Hood!