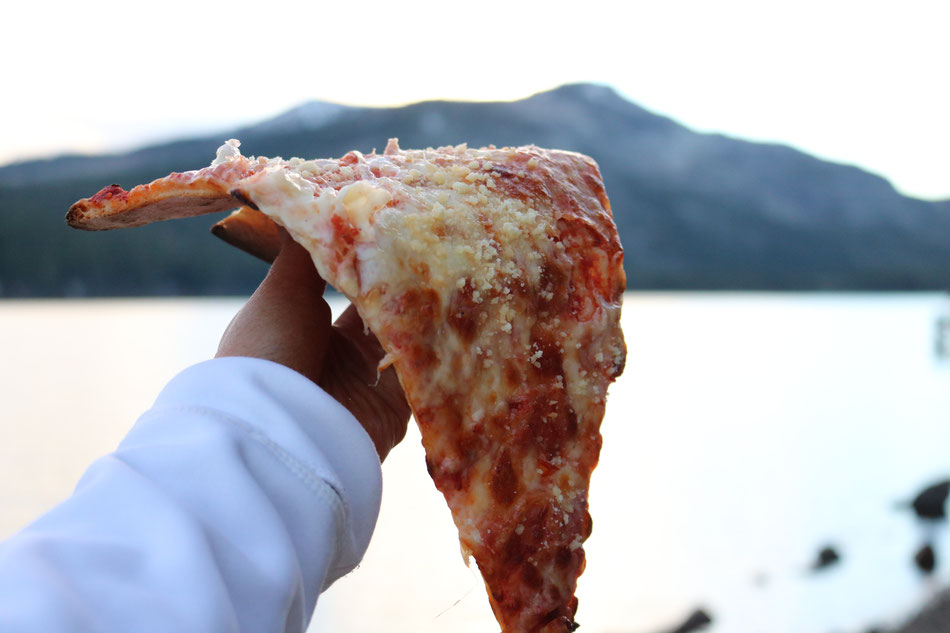 Decided to have a slice of pizza from Front Street Station Pizza in Truckee after a good workout.  Lately, I have been getting in as many workouts as possible before and after snowboarding.  I like to go to Donner Lake every few days and just relax.  Sometimes, I will take a blanket down to the dock and do yoga.  Nothing brings me more peace then having some "me time" by Donner Lake.  Living in Truckee surrounded by the Sierra Nevada mountains is a serene place to be.  When I look out on the lake, I feel mellow and chill vibes. 
This past fall, Kona would constantly ask to go to Donner Lake that way he could go swimming.  When he is not playing in the snow, swimming is what Kona likes to do.  He is a big fan of Donner Lake and Donner Pass.  Kona if he had a choice would spend all of his time here in Truckee during the winter and spring then would want to go to Mt Hood for summer.  Then Kona, would like to spend his time at Lincoln City in fall.  What many don't know about Kona is that he is very adventurous and craves the excitement of the next trip to somewhere he has or hasn't explored before.  He is quite the world traveler and lusts for a fun time out in nature.  A golden retriever with a warm smile, he never neglects the perfect opportunity for an outing outside.
With mad swimming skills, Kona is the example of a typical happy, easy going golden retriever that can't wait for the next trip to Donner Lake to discover something new each time he visits.