This was my second slalom contest ever and first professional slalom contest that I have ever done.  It was very exciting to compete at this cool event that even had a roof top drop to shave 3 seconds off your time.  I liked how FUN the event was and how many of my friends dressed up in costumes to celebrate the Aloha Spirit that was going on at the event.  I managed to get 8th out of 16th and not to bad for my second slalom I have ever done (and never practicing for slaloms). 
Felt enthusiastic about running with the middle of the pack at this comp and look forward to improving for next year's banked slalom!
It was nice to wake up at my house in Truckee and go 10 minutes up the road to Boreal to go compete at this event.  I liked playing around in a baby 12 foot choppy pipe when I waited for my runs.
Later that night I left for Mammoth Mountain that way I could compete the next day.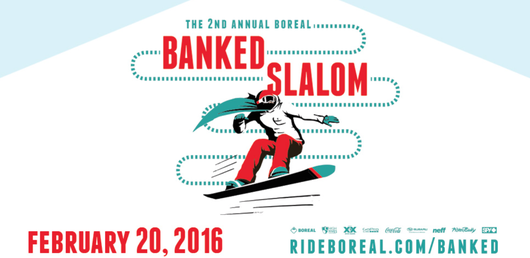 | | | | | |
| --- | --- | --- | --- | --- |
| Place | Bib # | Competitor Name | Time | Divison |
| 1 | 3 | Griselda Skeehan | 70.43 | Womens snowboard |
| 2 | 131 | Fancy Rutherford | 75.21 | Womens Snowboard |
| 3 | 156 | Rachel lightener | 76.55 | Womens Snowboard |
| 4 | 138 | Abigail | 77.90 | Womens Snowboard |
| 5 | 153 | Lena Decrescenzo | 78.90 | Womens Snowboard |
| 6 | 154 | Cali  Doerfer | 79.75 | Womens Snowboard |
| 7 | 65 | Emily Leach | 82.86 | Womens snowboard |
| 8 | 82 | Kanoe Pelfrey | 84.58 | Womens Snowboard |
| 9 | 50 | Sarah Adams | 86.23 | Womens snowboard |
| 10 | 145 | Phoebe Mills | 93.08 | Womens snowboard |
| 11 | 45 | Michelle Rahlves | 96.15 | Womens Snowboard |
| 12 | 139 | Amanda Spence | 104.04 | Womens Snowboard |
| 13 | 32 | Lindsay Wexler | 106.71 | Womens snowboard |
| 14 | 118 | Kendra Langston | 117.69 | Womens Snowboard |
| 15 | 129 | Regina Debow | 132.29 | Womens Snowboard |
| 16 | 66 | Kasandra Dolan |   | Womens snowboard |